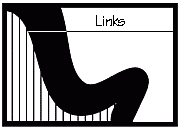 Home

Biography

Repertoire

Audio Samples

The Fine Companions

Southampton Trio/SCMS

Teaching Studio

Upcoming Events/
Recent Appearances

Tapes and CDs

Music Publications



Booking Information

Music-Related Links


Cheryl is available for all types of events, from weddings to corporate receptions, children's concerts to solo recitals. She performs on both the pedal and folk harp with a wide variety of classical, popular and folk music. Bookings may be made for solo harp, flute and harp or other small ensembles with harp.

For weddings, Cheryl is ready to greet your guests with classical music about 30 minutes prior to the beginning of your ceremony. She will then provide one or two processionals for the entrance of the officiant, families and wedding party; selections for the candlelighting, Communion or other appropriate portions of the service, and a recessional for the bridal party's exit. A short postlude will follow your guests as they leave. With an extensive repertoire of liturgical music from the Catholic, Protestant and Jewish faiths, the musical selections can be tailored to fit your ceremony.

Likewise, at receptions and other events, you can choose from Cheryl's extensive repertoire of classical and popular music. From transcriptions of works of the masters to old standards and Broadway show tunes to modern love songs and beyond, you can set the perfect background for your special occasion.


Requests for demonstration tapes and repertoire lists, or inquiries about rates, availability, or lessons may be made by e-mail at cdcharp@aol.com, or by phone at 215-355-3872. Please include the date, time, type and location of your event.